ABB PSR Series Softstarters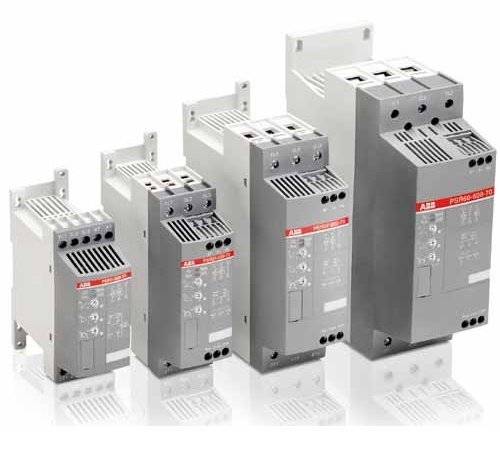 ABB PSR Series Softstarters
Product Description
ABB Soft Starters
PSR The compact range
The PSR softstarter is the most compact of all the soft starter ranges, thereby making it possible to design compact starting equipments. The system concept with Manual Motor Starters and the PSR provides a far more compact starting solution than for instance a star delta starter. Built-in by-pass reduces the energy loss and makes the connection easier and with only three potentiometers, the set-up couldnt be any easier. Still, the optimized ramping characteristics will ensure a very smooth start and stop for all applications.
Applications
1- Pumps: Water is the worlds most important resource and water facilities can be found all over the world. Examples of water applications are freshwater and wastewater systems, circulating water for heating or cooling and irrigation.
Work:
ABB softstarter will reduce the starting current and thereby avoid the voltage drops.
Use our softstarters equipped with an optimized stop ramp or even better with torque control.
Use our softstarters equipped with coated circuit boards to better withstand those environments.
Use ABB softstarters equipped with our special designed protections such as overload, underload, and locked rotor protection.

2- Fans
Work:
Use an ABB softstarter equipped with current limit to keep control of the starting current.
Our softstarters will reduce the mechanical stress during start, thus avoiding slipping belts.
A softstarter with underload protection will detect broken belts, making the operator immediately aware of the problem.

3- Compressors
Work:
Using a softstarter for starting will reduce the accelerating torque, thereby minimizing the mechanical stress.
Using a compact softstarter like PSR or PSE will allow a much more compact starting equipment than for instance
a star delta starter.

4- Conveyor belts
Work:
A softstarter from ABB will cause minimal mechanical stress on the conveyor belt.
Use a softstarter with phase reversal protection.
Using softstarters with high and low current warnings allows you to load on and off the conveyor belt.
A softstarter with kick start function will provide sufficient torque to be able to overcome the initial high friction from a temporarily jammed belt.

Product Descriptions :
The PSR range is the most compact of all the ABB softstarter ranges, thereby making it possible to fit many devices into the same enclosure. The system concept with Manual Motor Starters provides a far more compact starting solution than for
example a star delta starter.
Flexible mounting
PSR softstarters from 3 to 45 A are possible to mount on a din rail, ensuring quick and easy mounting. Naturally, all sizes can
be screw mounted.
Few settings
The set-up of the PSR is easily done and confirmed using the three clearly marked potentiometers on the front.
Built-in by-pass for energy saving
The built-in by-pass on all sizes does not only save energy; it will also ensure the most compact ABB softstarter design and reduce the installation time. Thanks to the reduced heat generation, the softstarter can be mounted inside high IP class
enclosures.
Suitable for stopping pumps
Even without using torque control, the PSR range is designed to reduce water hammering and will allow a superior stop compared to the direct stop resulting from a star delta starter or a DOL starter. See the special designed stop ramp with step
down voltage below.
System concept with manual motor starters
All PSR softstarter sizes can easily be connected to the corresponding manual motor starters from ABB, using the special designed connection kits. This will both make the mounting and the connection easier and will provide a very compact starting
solution containing short circuit and thermal protection, isolation function and soft starter - everything that you need.
Technical Details :
Product description
Wide rated operational voltage 208 600 V
Rated control supply voltage 24 V DC or 100 240 V AC
Rated operational current 3 105 A
Wide ambient temperature range, -25 to +60 C
Built-in by-pass on all sizes, saving energy and reducing
installation time
Potentiometer settings
Run signal relay on all devices
TOR signal relay on PSR25 PSR105
Optional fieldbus communication using Profibus, Modbus,
Devicenet or CANopen
DIN rail mounting on PSR3 PSR45
Screw mounting on all sizes
Connection kits for easy connection with ABB manual
motor starters
Sophisticated algorithm eliminating the DC-component and
thereby providing excellent starting performance.